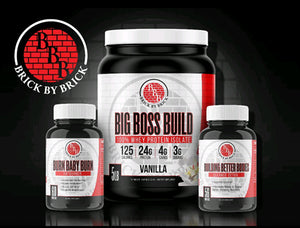 Brick By Brick Supplements
14-Day Brick By Brick System
Regular price
$127.50
Sale price
$132.50
Unit price
per
(1) 5lb Big Boss Build Whey Protein tub, Building Better Bodies Cleanse Detox, and Burn Baby Burn Fat Burner.
We designed a 14 day quick start package, get results fast with our amazing nutritional line up. Order today and save.
Individual purchased, these items cost $132.50, but when purchased together you save $5; $127.50 plus a T-shirt.
---