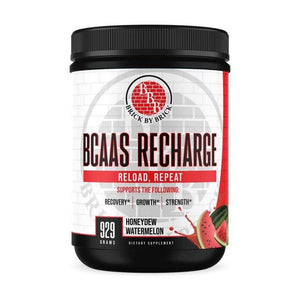 Brick By Brick Supplements
BCAAS
Regular price
$34.99
Sale price
$39.99
Unit price
per
One of the most popular uses of BCAAs is to increase muscle growth.
The BCAA leucine activates a certain pathway in the body that stimulates muscle protein synthesis, which is the process of making muscle.
In one study, people who consumed a drink with 5.6 grams of BCAAs after their resistance workout had a 22% greater increase in muscle protein synthesis compared to those who consumed a placebo drink.
That being said, this increase in muscle protein synthesis is approximately 50% less than what was observed in other studies where people consumed a whey protein shake containing a similar amount of BCAAs.
Whey protein contains all the essential amino acids needed to build muscle.
Therefore, while BCAAs can increase muscle protein synthesis, they can't do so maximally without the other essential amino acids, such as those found in whey protein or other complete protein sources.
---